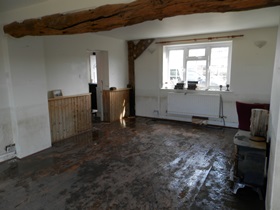 When floods hit, or pipes burst, the damage can be both sudden and severe. The most important thing is to act quickly: this will help to reduce the cost and complexity of restoring the affected property.
Aspen Restoration's nationwide team of flood experts can be on site fast. Using the latest techniques and equipment, we offer the following services:
Water extraction: we do this speedily and safely. The more quickly we can remove the water from the property, the less secondary damage is likely to occur.
Drying: we use techniques such as injection-drying and suction-drying to remove moisture, whether in the walls or under the floorboards.
Sanitising and decontamination: flood water can bring with it a number of hazardous substances. Our specialists will ensure the property is free of danger, with all contaminants removed.
Air quality control: moisture is a silent destroyer of furnishings, equipment and interiors. We will use our expertise and specialist equipment to mitigate loss and control the indoor environmental conditions.
The quicker we can start, the better the result. Contact Aspen Restoration now on 0808 250 8893.