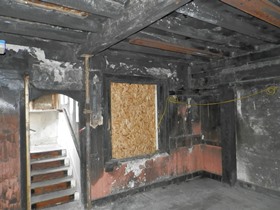 With its nationwide coverage, Aspen Restoration can step in when you need us. We will:
Immediately safeguard the property against secondary damage.
Remove and store all salvageable contents and personal belongings.
Restore valuable items, including antiques, fine arts, clothing and electronic equipment.
Remove smoke and soot damage: using the latest specialist techniques, our experienced technicians can eliminate the after-effects of smoke and soot residues.
Remove odour and contamination: we use all our expertise to identify and implement the safest and most effective technique to remove odour and particulate contamination.
Asbestos management and removal: our specialist team can deal with all elements of asbestos management.
For an immediate response, contact Aspen Restoration now on 0808 250 8893.